INVEST HERE.
DOWNTOWN JACKSON, MISSISSIPPI IS A VIBRANT CENTER OF BUSINESS, COMMERCE, AND EDUCATION BY DAY THAT BECOMES A CULINARY AND ENTERTAINMENT HOTSPOT BY NIGHT. NEARLY 20% OF MISSISSIPPIANS LIVE IN THE JACKSON METRO-AREA, AND THAT'S WELL OVER A HALF A MILLION POTENTIAL CUSTOMERS AND CLIENTS LIVING WITHIN FIVE MILES OF DOWNTOWN.
IN ADDITION, OVER 1 MILLION PEOPLE VISIT DOWNTOWN ANNUALLY TO ATTEND A CONFERENCE, LISTEN TO LIVE MUSIC, VIEW AN EXHIBITION, OR TO ENJOY A STREET FESTIVAL. WHETHER IT'S WATCHING A BROADWAY SHOW, LISTENING TO THE SYMPHONY, VIEWING WORLD-CLASS ART, OR DINING AT ONE OF THE NEARLY 40 RESTAURANTS AND NIGHTLIFE LOCATIONS IN THE AREA, WHEN YOU'RE DOWNTOWN YOU CAN HAVE IT ALL. THAT IS WHY DEVELOPERS, INVESTORS, AND BUSINESS INFLUENCERS FROM ALL OVER ARE REALIZING THE JEWEL OF TRUE POTENTIAL FOUND IN DOWNTOWN JACKSON, MISSISSIPPI.
DOWNTOWN DEVELOPMENT
WITH RECENT GROWTH OF JACKSON'S METROPOLITAN AREA, POPULATION DOWNTOWN HAS EXPANDED BY HUNDREDS WITHIN THE PAST FEW YEARS. THE DEMAND FOR NEW RESIDENTIAL AND MIXED-USE DEVELOPMENT OPPORTUNITIES CONTINUE TO RISE. DOWNTOWN HAS EXPERIENCED NEARLY $900 MILLION IN DEVELOPMENT SINCE 2005 AND THERE ARE APPROXIMATELY $100 MILLION IN PROJECTS CURRENTLY UNDERWAY OR ON THE DRAWING BOARD.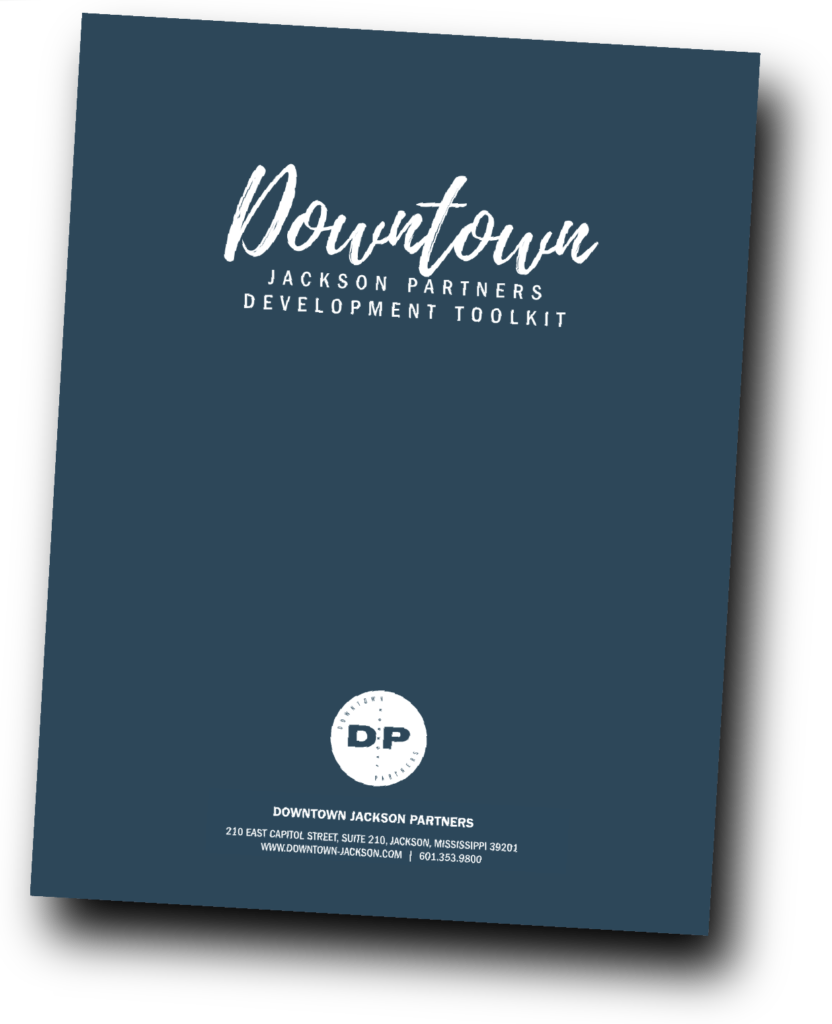 CLICK THE IMAGE TO THE RIGHT TO CHECK OUT THE DJP ECONOMIC DEVELOPMENT TOOLKIT PROVIDING A PRINTABLE SNAPSHOT OF DEVELOPMENT HISTORY WITHIN THE DOWNTOWN BUSINESS IMPROVEMENT DISTRICT, A WORKFORCE OCCUPATION BREAKDOWN AND OTHER MARKET INFORMATION, MAJOR DEVELOPMENT PROJECTS THROUGH THE YEARS, A LIST OF ECONOMIC INCENTIVES, IMPORTANT CONTACT INFORMATION AND MORE.
DOWNTOWN BUSINESS
JUST LIKE DEVELOPMENT, DOWNTOWN BUSINESS IS BOOMING. BUSINESSES AND ORGANIZATIONS FROM ALL OVER ARE REALIZING THE POTENTIAL AND JUMPING IN, KNOWING THAT DOWNTOWN JACKSON IS THE PLACE TO BE.
SITUATED WITHIN MINUTES OF THE JACKSON-MEDGAR WILEY EVERS INTERNATIONAL AIRPORT AND MAJOR REGIONAL HIGHWAYS, DOWNTOWN IS A SUPER CONVENIENT AND ACCESSIBLE MEETING AND EVENT DESTINATION, OFFERING NEARLY 500,000 SQ FT OF MEETING SPACE IN A VARIETY OF SETTINGS – FRIENDLY CONFERENCE OR DINING ROOMS, FORMAL BANQUETS OR BALLROOMS, OUTDOOR GARDENS OR VISTAS, HISTORIC CHAMBERS AND FORUMS – ALL WITHIN WALKING DISTANCE OF OVER 700 HOTEL ROOMS, AWARD-WINNING MUSEUMS, CAPTIVATING HISTORIC SITES, AND NEARLY 40 RESTAURANT AND NIGHTLIFE SPOTS. USE THE LINKS BELOW FOR MORE INFORMATION ON STARTING UP BUSINESS OR PLANNING AN EVENT IN DOWNTOWN JACKSON. CHECK OUT THE GUIDES BELOW FOR MORE INFORMATION ON DOWNTOWN JACKSON, AND FEEL FREE TO PRINT THEM OUT IF DESIRED.
PRINTABLE GUIDES FOR DOWNTOWN JACKSON