GREENING UP DOWNTOWN.
DOWNTOWN JACKSON PARTNERS CURRENTLY PLANT AND MAINTAIN OVER 50 PLANTERS SCATTERED ACROSS THE DOWNTOWN JACKSON BUSINESS IMPROVEMENT DISTRICT. IN ADDITION TO REGULAR MAINTENANCE AND UPKEEP, TWICE A YEAR OUR DOWNTOWN AMBASSADORS REFRESH EACH PLANTER WITH NEW SOIL AND PLANTINGS FOR BEAUTIFICATION LASTING THROUGHOUT THE YEAR.
IN FALL OF 2020, DOWNTOWN JACKSON PARTNERS LAUNCHED THE EARTHPLANTER PILOT PROGRAM IN AN EFFORT TO TRANSITION FROM USING STANDARD CONCRETE CONTAINERS TO AN INNOVATIVE SELF-WATERING CONTAINER SYSTEM THAT REDUCES UP TO 80% LESS WATER USAGE.
THE INITIAL PILOT PHASE CONSISTED OF REPLACING TWELVE OF THE STANDARD DJP CONCRETE CONTAINERS WITH EARTHPLANTER, THE #1 LEADER IN SUSTAINABLE SELF-WATERING PLANT SOLUTIONS. MADE RIGHT HERE IN THE USA, EARTHPLANTER SELF-WATERING SYSTEMS PRODUCE SUPERIOR PLANT GROWTH WHILE REDUCING LABOR COSTS, FUEL AND WATER USAGE. THIS TRANSITION TO THE MORE EFFICIENT AND LONG-TERM COST-EFFECTIVE ALTERNATIVE FOR THE DOWNTOWN DISTRICT HAS PROVED ITSELF ABSOLUTELY WORTH IT. THE DOWNTOWN AMBASSADORS ARE ABLE TO FOCUS MORE ATTENTION ON ADDITIONAL PROJECTS ALL WHILE HELPING OUR ENVIRONMENT, FROM THE MANY BENEFITS OF WATER CONSERVATION TO THE BEAUTIFUL ENHANCEMENT OF GREENERY AND COLOR WITHIN OUR URBAN STREETSCAPE.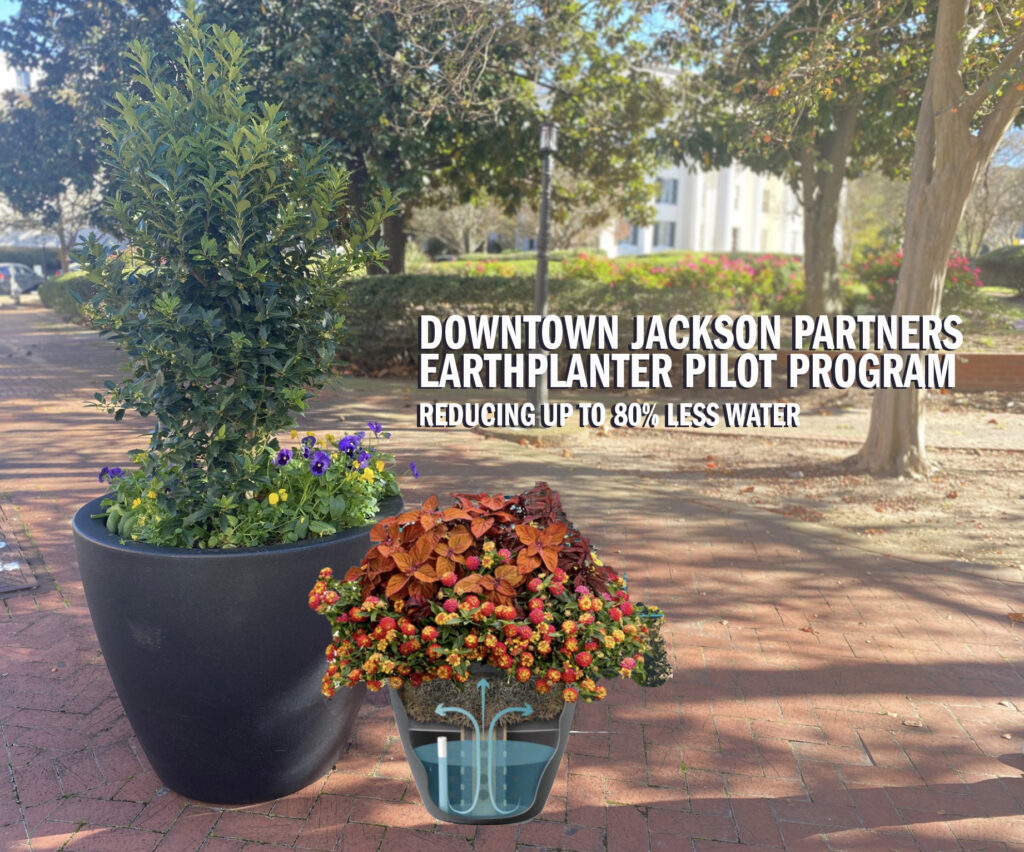 DJP ADOPT.A.POT SPONSORSHIP PROGRAM
A ONE YEAR SPONSORSHIP OF A NEW DOWNTOWN JACKSON PARTNERS EARTHPLANTER PROVIDES AN OPPORTUNITY TO TAKE AN ACTIVE ROLE OF PROUD TEMPORARY OWNERSHIP IN HELPING TO GREEN UP THE DOWNTOWN DISTRICT. THE $200 TAX DEDUCTIBLE SPONSORSHIP WILL COVER TWO SETS OF PLANTINGS DURING THE YEAR (SPRING + FALL) IN A THRILLER-FILLER-SPILLER DESIGN, AS WELL AS FRESH SOIL AND FERTILIZER.
SPONSORS ARE NOT RESPONSIBLE FOR MAINTENANCE OR UPKEEP OF THE CONTAINER. THE INDIVIDUAL, FAMILY OR ORGANIZATION WILL RECEIVE A CUSTOMIZED PLAQUE SHOWCASING THEIR NAME OR COMPANY NAME IN EACH CONTAINER THAT IS SPONSORED, AS WELL AS CONFIRMATION OF PLAQUE PLACEMENT AND LOCATION ONCE IT HAS BEEN PLACED.
IF YOU ARE INTERESTED IN SPONSORING A DJP EARTHPLANTER, PLEASE FILL OUT THE SPONSORSHIP FORM EITHER ONLINE (USING THE FORM BELOW) OR PRINT AND SUBMIT A TANGIBLE SPONSORSHIP FORM ALONG WITH PAYMENT TO THE FOLLOWING ADDRESS: DOWNTOWN JACKSON PARTNERS, 210 E CAPITOL STREET, SUITE 210, JACKSON, MISSISSIPPI 39201. TO RECEIVE A TAX DEDUCTION ON YOUR SPONSORSHIP, PLEASE MAKE CHECKS OUT TO FOUNDATION FOR MISSISSIPPI'S DOWNTOWN. IF YOU HAVE ANY QUESTIONS ABOUT THE ADOPT.A.POT SPONSORSHIP PROGRAM, CONTACT US!
ADOPT.A.POT SPONSORSHIP FORM
TO SPONSOR A DJP EARTHPLANTER, PLEASE FILL OUT THE FORM BELOW OR PRINT OFF A TANGIBLE COPY HERE. YOU WILL RECEIVE A CONFIRMATION ONCE WE RECEIVE BOTH THE COMPLETED FORM AND PAYMENT, AS WELL AS CONFIRMATION OF PLAQUE PLACEMENT AND LOCATION ONCE IT HAS BEEN PLACED. THANK YOU FOR YOUR INTEREST AND INVESTMENT OF BEAUTIFICATION EFFORTS IN DOWNTOWN JACKSON!
PLEASE NOTE THAT THE ONLINE SPONSORSHIP FORM WILL NOT GO THROUGH UNLESS YOU ANSWER EACH REQUIRED FIELD. THANK YOU.