JTRAN
JTRAN IS THE CITY OF JACKSON'S OFFICIAL PUBLIC TRANSPORTATION SYSTEM, PROVIDING FIXED ROUTE AND PARATRANSIT ADA DOOR-TO-DOOR BUS SERVICES THROUGHOUT AND AROUND THE CITY. YOU CAN COUNT ON JTRAN TO PROVIDE TRANSIT SERVICES MONDAY THROUGH FRIDAY FROM 5:15AM TO 7:45PM AND SATURDAY FROM 6:30AM TO 6:30PM.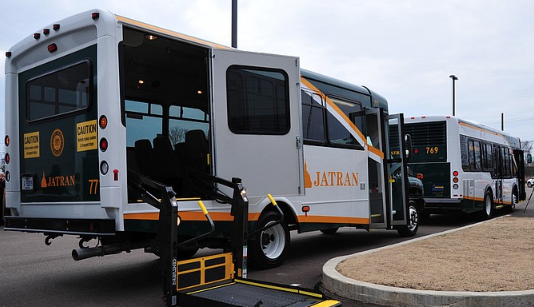 ALL JTRAN VEHICLES ARE FULLY EQUIPPED WITH WHEELCHAIR LIFT OR RAMPS, AND A WHEELCHAIR SECUREMENT AREA WITH SPACE FOR TWO TO FOUR WHEELCHAIRS. THE BUS OPERATOR WILL PROVIDE ASSISTANCE WITH NORMAL BOARDING OR EXITING, WHEELCHAIR SECUREMENT, AND OPERATION OF THE LIFT OR RAMP. ANY ADDITIONAL ASSISTANCE WOULD REQUIRE THE USE OF A PERSONAL CARE ATTENDANT (PCA), WHO CAN RIDE FREE OF CHARGE.
BUS STOPS ARE LOCATED AT APPROXIMATELY ONE-QUARTER MILE INTERVALS ALONG EACH ROUTE AND ARE IDENTIFIED BY JTRAN SIGNAGE. JTRAN OFFERS BASIC FARES, AS WELL AS SENIOR, STUDENT, AND CHILD DISCOUNTS, FOR ONE WAY, DAILY, WEEKLY, MONTHLY TRANSPORTATION. COLLEGE STUDENTS CAN ALSO PAY PER SEMESTER OR SUMMER RATES. PATRONS ARE ABLE TO TRANSFER, AND CHILDREN AGES FIVE AND UNDER CAN RIDE FOR FREE. FOR MORE INFORMATION INCLUDING ROUTES, HOW TO RIDE, RULES OF THE ROAD, ACCESSIBILITY QUESTIONS, OR TO SIGN UP FOR RIDER ALERTS, CLICK HERE.
PRIVATE TRANSPORTATION
TAXIS AND PRIVATE TRANSPORTATION SERVICES ARE AVAILABLE THROUGHOUT THE CITY. HERE ARE A FEW OPTIONS:
JACKSON TAXI: 601.292.1100
ELECTRIC VEHICLE CHARGING STATION
CURRENTLY, THE OLD CAPITOL INN, LOCATED ON CAPITOL STREET IN DOWNTOWN, PROVIDES THE BUSINESS IMPROVEMENT DISTRICT'S ONLY PUBLIC ELECTRIC VEHICLE CHARGING STATION.
ELECTRIC VEHICLE DRIVERS CAN EASILY PULL UP TO THE CHARGING STATION, JUICE UP AND BE BACK ON THEIR WAY IN NO TIME!
THE 24-HOUR CHARGING STATION OFFERS TWO PORTS AND UP TO 13KW. FOR MORE INFORMATION, CONTACT 601.359.9000.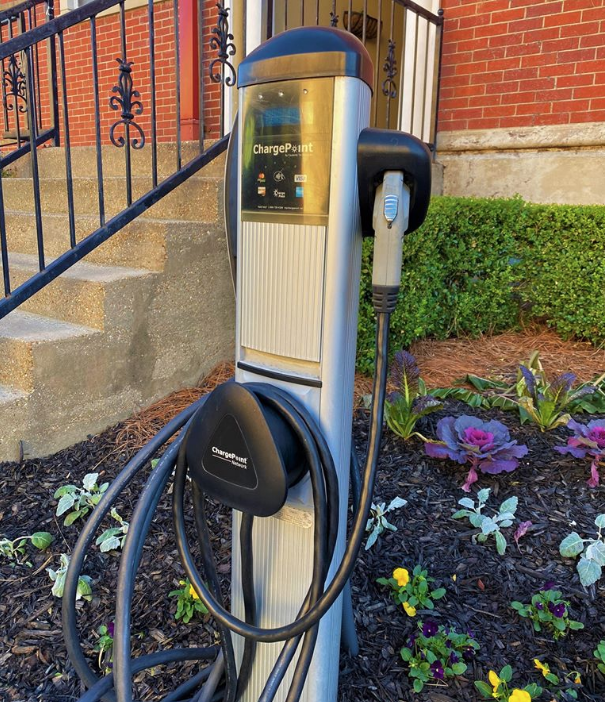 REGIONAL SERVICES
ALONG WITH JTRAN, THE CITY OF JACKSON OFFERS AMTRAK AND GREYHOUND REGIONAL TRANSPORTATION SERVICES FROM UNION STATION MULTIMODAL TRANSPORTATION FACILITY, LOCATED ON THE WEST SIDE OF THE BUSINESS IMPROVEMENT DISTRICT. THE JACKSON-EVERS INTERNATIONAL AIRPORT IS ONLY A 15 MINUTE HOP FROM DOWNTOWN.
AMTRAK
AMTRAK IS AMERICA'S RAILROAD, THE NATION'S INTERCITY PASSENGER RAIL SERVICE AND ITS HIGH-SPEED RAIL OPERATOR. MORE THAN 32.5 MILLION CUSTOMERS TRAVELED ON AMTRAK IN FY 2019 ON MORE THAN 300 DAILY TRAINS THAT CONNECT 46 STATES, THE DISTRICT OF COLUMBIA AND THREE CANADIAN PROVINCES. FOR MORE INFORMATION ON SCHEDULES, DESTINATIONS, ACCESSIBILITY OPTIONS AND MORE, CLICK HERE.
GREYHOUND
GREYHOUND LINES, INC IS THE LARGEST PROVIDER OF INTERCITY BUS TRANSPORTATION, SERVING 2,400 DESTINATIONS ACROSS NORTH AMERICA WITH A MODERN, ENVIRONMENTALLY FRIENDLY FLEET. IT HAS BECOME AN AMERICAN ICON, PROVIDING SAFE, ENJOYABLE AND AFFORDABLE TRAVEL TO NEARLY 16 MILLION PASSENGERS EACH YEAR IN THE UNITED STATES AND CANADA. FOR INFORMATION ON DESTINATIONS, TICKET INFORMATION, ACCESSIBILITY OPTIONS AND MORE, CLICK HERE.
JACKSON-EVERS INTERNATIONAL AIRPORT
JACKSON-EVERS INTERNATIONAL AIRPORT IS THE COMMERCIAL AIRPORT SERVING JACKSON, MISSISSIPPI. DESIGNATED AS A GENERAL-PURPOSE FOREIGN TRADE ZONE, THE AIRPORT MAINTAINS TWO 8,500-FT RUNWAYS AND CURRENTLY SERVES AMERICAN AIRLINES, DELTA AIRLINES, FRONTIER AIRLINES, SOUTHWEST AIRLINES AND UNITED AIRLINES. TO VISIT THE JACKSON-EVERS INTERNATIONAL AIRPORT ONLINE, CLICK HERE.