PROMOTING. REVITALIZING. EMPOWERING.
IN THE EARLY 1990S A GROUP OF COMMUNITY LEADERS AND ELECTED OFFICIALS SHARED A VISION OF A VIBRANT DOWNTOWN COMMUNITY. ULTIMATELY THE PROPERTY OWNERS OF DOWNTOWN JACKSON, MISSISSIPPI, FORMED A BUSINESS IMPROVEMENT DISTRICT (BID), FUNDED BY AN ASSESSMENT ON THE COMMERCIAL PROPERTY IN THE DISTRICT AND DESIGNATED DOWNTOWN JACKSON PARTNERS, A 501(C)(4) NONPROFIT, AS MANAGER TO TAKE THE NECESSARY STEPS TO ACCOMPLISH THAT VISION. ​
TODAY, DOWNTOWN JACKSON HAS EVOLVED FROM AN 8-TO-5 OFFICE PARK TO A 24-HOUR NEIGHBORHOOD, WITH OVER $800 MILLION IN ECONOMIC DEVELOPMENT SINCE THE BID'S INCEPTION. RESIDENTIAL DEVELOPMENT HAS BEEN A HIGHLIGHT WITHIN THE BID WITH MORE THAN 250 APARTMENTS BROUGHT ONLINE SINCE 2005, AND 350 IN THE WORKS. ORGANIZERS OF FESTIVALS AND EVENTS CONTINUE TO VALUE AND SCHEDULE DOWNTOWN VENUES AND THE JACKSON CONVENTION COMPLEX REGULARLY DRAWS LOCAL, REGIONAL AND NATIONAL EVENTS TO THE AREA. DOWNTOWN CONTINUES TO SEE ECONOMIC ACTIVITY WITH OVER $200 MILLION IN PROJECTS CURRENTLY UNDERWAY OR ON THE DRAWING BOARD.
WITH THE EVOLUTION OF DOWNTOWN, DOWNTOWN JACKSON PARTNERS HAS ADAPTED OPERATIONS TO FULFILL THE CURRENT AND ANTICIPATED FUTURE NEEDS OF THE DISTRICT. WE HAVE STRENGTHENED OUR CLEAN AND SAFE PROGRAM, AND CONTINUE TO RESEARCH AND INSTALL NEW PROGRAMS FOR THE BETTERMENT OF DOWNTOWN AS THE CITY CONTINUES TO GROW. WE HAVE POSITIONED OURSELVES TO BE A MAJOR RESOURCE FOR DEVELOPERS IN AN ADVISORY ROLE AND TO TAKE THE LEAD ON PUBLIC IMPROVEMENT PROJECTS. 
DOWNTOWN JACKSON PARTNERS CONSISTENTLY WORKS TO ENHANCE THE QUALITY OF LIFE FOR THOSE WHO LIVE, WORK AND PLAY DOWNTOWN. WE HELP TO PROMOTE BOTH NEW AND ESTABLISHED BUSINESSES, ORGANIZATIONS AND EVENTS THAT FALL WITHIN THE DOWNTOWN DISTRICT. WE OFFER SEVERAL VISITOR, RESIDENT AND PARKING GUIDES, AS WELL AS A DEVELOPMENT TOOLKIT, THAT WILL IMPROVE THE DEVELOPER, RESIDENT AND VISITOR EXPERIENCE WITHIN THE DOWNTOWN JACKSON BUSINESS IMPROVEMENT DISTRICT. 
BUSINESS IMPROVEMENT DISTRICT MAP
THE DOWNTOWN JACKSON BUSINESS IMPROVEMENT DISTRICT (BID OR "DOWNTOWN DISTRICT") HOSTS A THIRD OF THE JACKSON METRO-AREA'S OFFICE MARKET, MOST OF THE AREA'S GOVERNMENT FACILITIES AND A WEALTH OF CULTURAL AMENITIES. THIS 65-BLOCK AREA IS THE HEART OF DOWNTOWN JACKSON.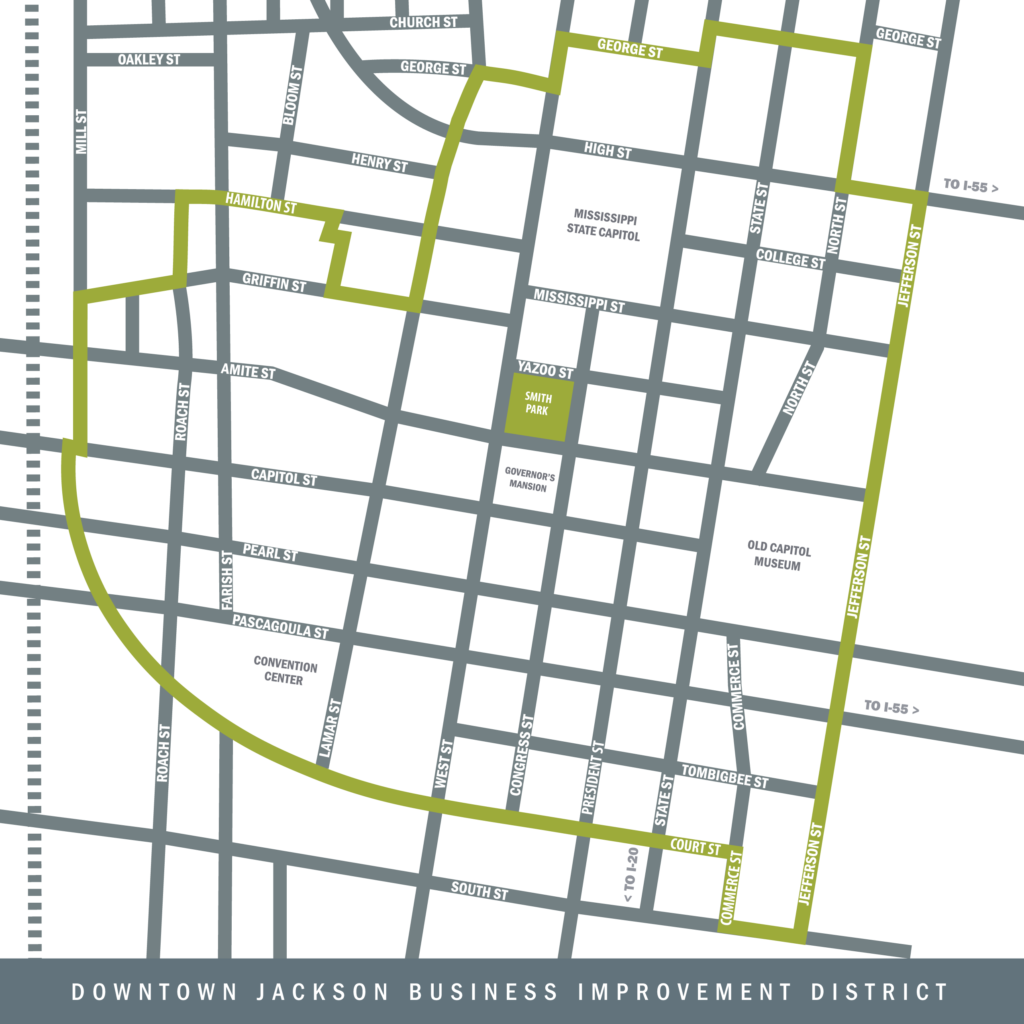 THE DOWNTOWN JACKSON BUSINESS IMPROVEMENT DISTRICT IS BOUNDED BY COURT STREET ON THE SOUTH TO JEFFERSON, JEFFERSON STREET ON THE EAST TO HIGH, HIGH STREET TO NORTH, NORTH STREET TO GEORGE, GEORGE STREET ON THE NORTH TO LAMAR, LAMAR STREET ON THE WEST TO GRIFFITH, GRIFFITH STREET ON THE NORTH TO MILL AND MILL STREET ON THE WEST TO COURT.