CONNECT.
DON'T MISS OUT! STAY UP-TO-DATE ON THE SIGHTS AND SOUNDS OF LOCAL LIFE, AS WELL AS HOW TODAY'S POTENTIAL IS TURNING INTO THE THRIVING DOWNTOWN OF TOMORROW. SUBSCRIBE TO RECEIVE SAFE, SECURE EMAIL UPDATES DELIVERED DIRECTLY TO YOUR INBOX.
DOWNTOWN JACKSON PARTNERS RESPECTS YOUR PRIVACY AND WILL NEVER SHARE OR DISTRIBUTE YOUR INFORMATION WITH ANY THIRD PARTY, NOR WILL WE SEND YOU UNSOLICITED EMAILS. YOU MAY UNSUBSCRIBE AT ANY TIME.
CHOOSE THE TYPE OF INFORMATION YOU'D LIKE TO RECEIVE FROM US BY USING THE CHECK-BOXES BELOW.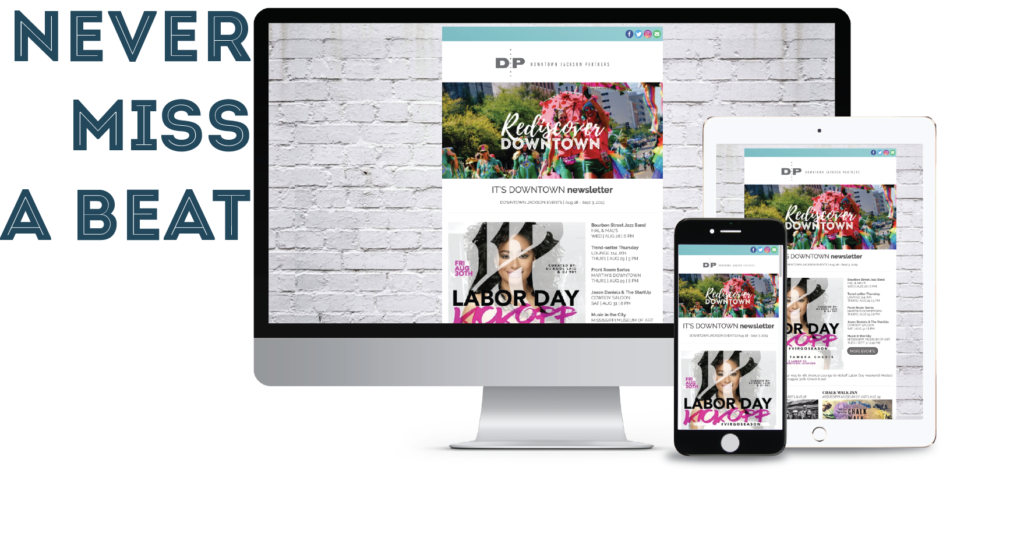 HAVE INFORMATION YOU'D LIKE TO SHARE?
IF YOU HAVE NEWS OR INFORMATION YOU'D LIKE TO SHARE, LET US KNOW. YOUR NEWS OR EVENT MAY SHOW UP IN ONE OF OUR NEWSLETTERS, OR POSTED TO OUR ONLINE EVENT PAGE!
NEWSLETTER ARCHIVE