DOWNTOWN JACKSON PARTNERS WAS INSTRUMENTAL IN THE RESTORATION OF ONE OF THE OLDEST CITY PARKS IN AMERICA. THE STATE OF MISSISSIPPI GAVE SMITH PARK, A 2.4-ACRE PLOT OF LAND NOW LISTED ON THE NATIONAL REGISTER OF HISTORIC PLACES, TO THE CITY OF JACKSON IN 1838 FOR THE PURPOSE OF BEING ENJOYED AS A PARK BY ALL IN DOWNTOWN JACKSON.
OVER THE YEARS, SMITH PARK FOUND ITSELF SHOWING ITS AGE. MANY OF THE TREES HAD REACHED THE END OF THEIR LIFECYCLE, THE HARDSCAPE AND FURNISHINGS HAD DETERIORATED, AND THE WATER FEATURES PROVED TOO EXPENSIVE TO MAINTAIN AND FAILED TO FUNCTION MOST OF THE TIME. THE PARK WAS TRULY AN EYE-SORE COUPLED WITH A WEALTH OF GROWING PROBLEMS.
THROUGH A SERIES OF PUBLIC MEETINGS AND GATHERINGS THROUGHOUT 2013 AND 2014, INPUT WAS COLLECTED FROM PROPERTY OWNERS, BUSINESSES, RESIDENTS, AND VISITORS ON WAYS TO BEST RESTORE AND IMPROVE THE LANDMARK. FROM THOSE MEETINGS, IN PARTNERSHIP WITH THE CITY OF JACKSON, DOWNTOWN JACKSON PARTNERS AND FRIENDS OF SMITH PARK DEVELOPED A THREE-PHASE PLAN AND BUDGET TO TRANSFORM THE PARK INTO A TOP VENUE FOR ENTERTAINMENT AND A PLACE TO RELAX AMID THE BUSTLE OF THE CITY'S CENTRAL BUSINESS DISTRICT.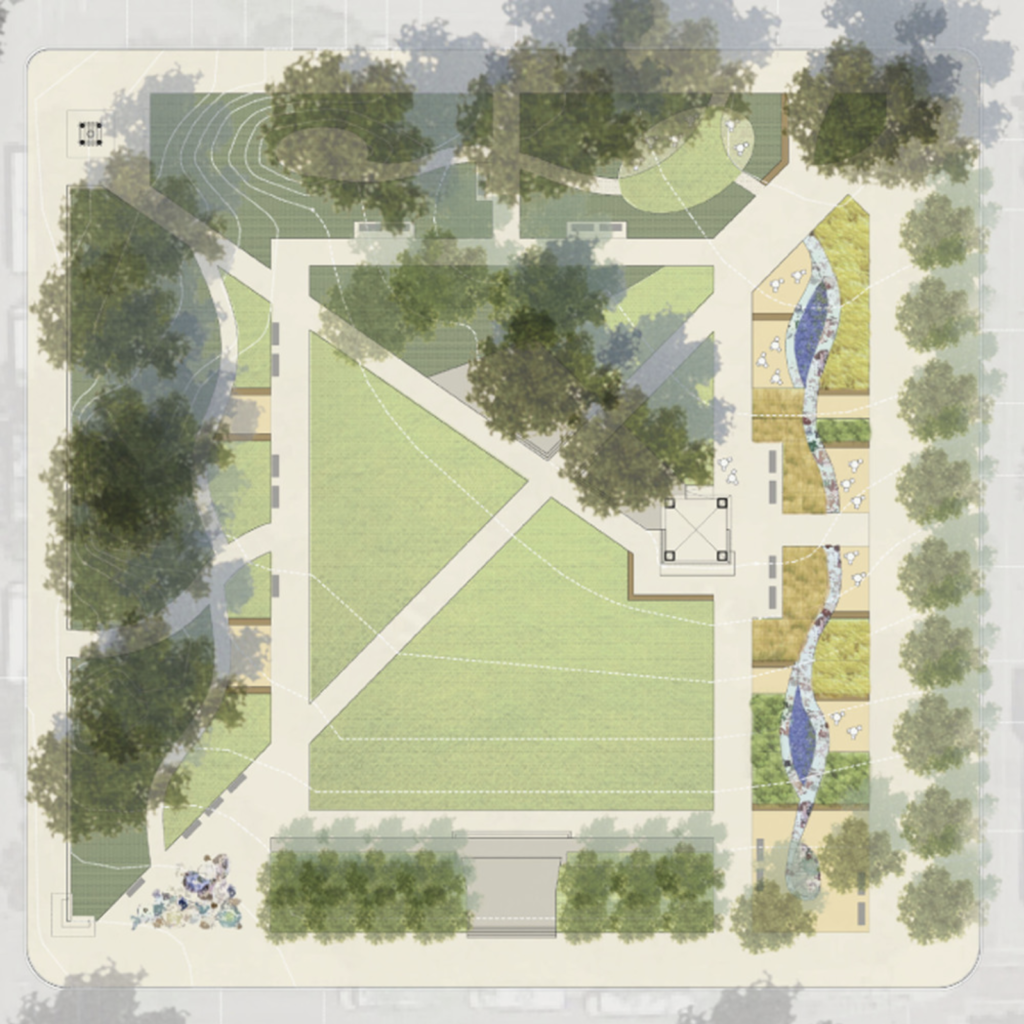 PLANS FOR THE PROJECT WERE REVIEWED AND APPROVED BY THE MISSISSIPPI DEPARTMENT OF ARCHIVES AND HISTORY, AND THE FIRST PHASE OF THIS LONG-ANTICIPATED MULTI-MILLION DOLLAR RESTORATION BEGAN IN NOVEMBER OF 2016. PHASE I CONSISTED OF CLEARING ALL ARBORIST-DEEMED DEAD AND DYING TREES FROM THE PARK, AS WELL AS THOSE DEEMED UNSUSTAINABLE FOR LONG-TERM GROWTH.
PHASE II OF THE SMITH PARK RENAISSANCE PROJECT, COMPLETED IN APRIL OF 2018, CALLED FOR THE REMOVAL OF DILAPIDATED CONCRETE WATERWAYS, THE ELIMINATION OF UNSIGHTLY BERMS, AND THE RE-SODDING OF GRASS TO CREATE A MORE OPEN AND LEVEL GREEN SPACE FOR VISITORS TO USE IN A SAFE AND INVITING ENVIRONMENT. AT A COST OF AROUND $100 THOUSAND, FUNDING FOR THIS PORTION OF THE OVERALL $2.5 MILLION PROJECT WERE MADE POSSIBLE BY DOWNTOWN JACKSON PARTNERS.
LOOKING FORWARD, THE THIRD PHASE OF THE PROJECT CALLS FOR A RE-DESIGNED OPEN SPACE WITH LANDSCAPED WALKWAYS, A MODERN STAGE TO ACCOMMODATE CONCERTS AND OTHER ENTERTAINMENT, AND OTHER ELEMENTS SUCH AS A WATER PAD, RAIN GARDEN OR PLAYGROUND FOR CHILDREN.
THE RESTORATION OF SMITH PARK REFLECTS THE COMMITMENT OF BUSINESS OWNERS AND RESIDENTS TO TRANSFORM DOWNTOWN JACKSON INTO THE CROWN JEWEL OF MISSISSIPPI'S CAPITAL CITY, AND THIS PROJECT WILL ENSURE THAT THOSE PLANS REMAIN FOR FUTURE GENERATIONS. AS STATED BY JACKSON MAYOR CHOKWE ANTAR LUMUMBA, "WHEN COMPLETED, SMITH PARK WILL BE A WORLD-CLASS GREEN SPACE FOR ALL OF JACKSON AND THE STATE TO ENJOY."